Paving and Patios ~ Supplied and Fitted
Paving comes in all shapes and sizes. From natural limestone, to various types of sandstone, to quartz or granite and many more in between. There are many types to chose from, depending on your specific needs and budget and desired look.
Quick pros for the most common types of natural stone paving:
Limestone; durable and long lasting.
Good grip underneath your foot.
Generally smoother in appearance (compared to others) but still retains a nice texture.
Colour: ranges from a

light grey,

to a darker '

inky blue

' or

d

eep grey

. Comes in different sizes or 'sets'.
Changes to a darker version of the original colour when wet.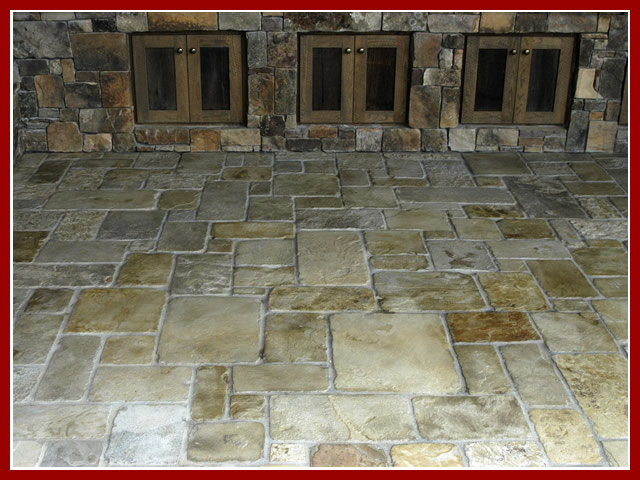 Internal courtyard. Natural stone
Landscaping and paving. Blackrock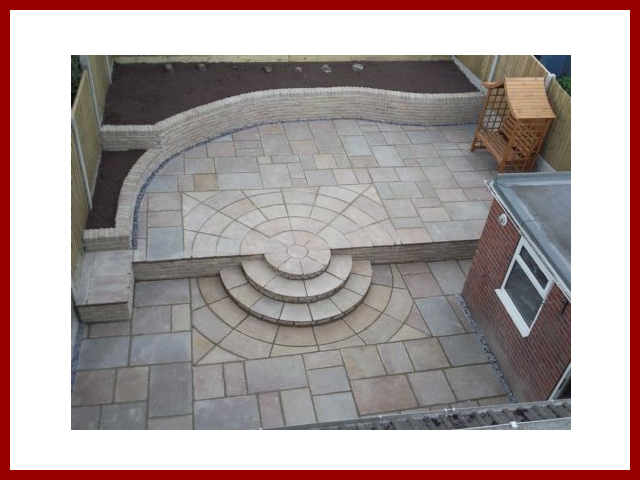 Patio with circle steps Dalkey
Patio - Steps - Retaining garden wall
Circular Patio with path. Ranelagh
Garden paving
Patio with concave steps. Foxrock Dublin
Split level garden and levels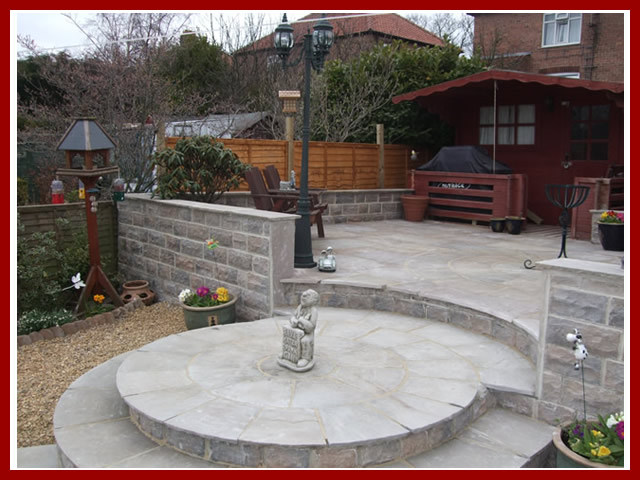 Circular paving and patio area with dividing stone walls
www.pavedtheway.ie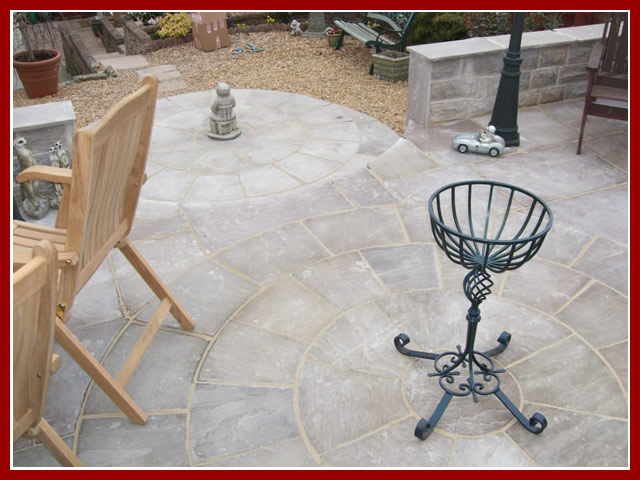 Patio with circle steps. 'Concave' where patio meets steps
Blackrock - Dublin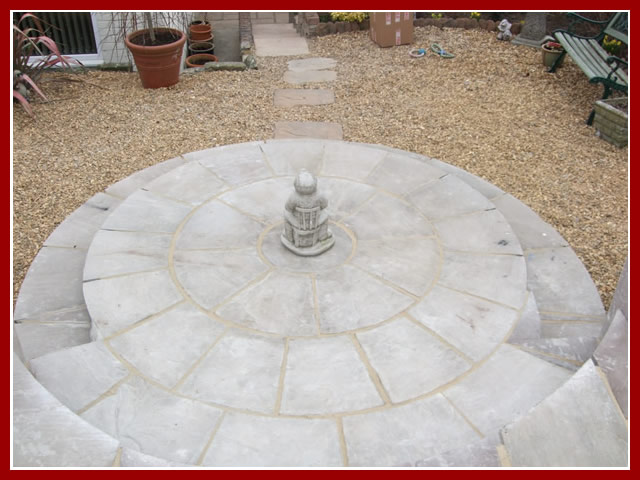 Circle paving steps leading to garden path
Maintenance free stone chips in Garden
Red sandstone patio with centre design
North - South - East - West star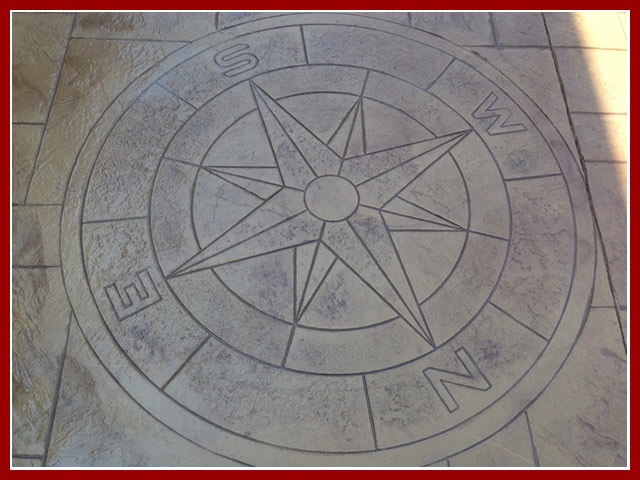 North - south - east - west. Paving set star.
Centre Star. Breaks up the flow of the paving and adds a conversation piece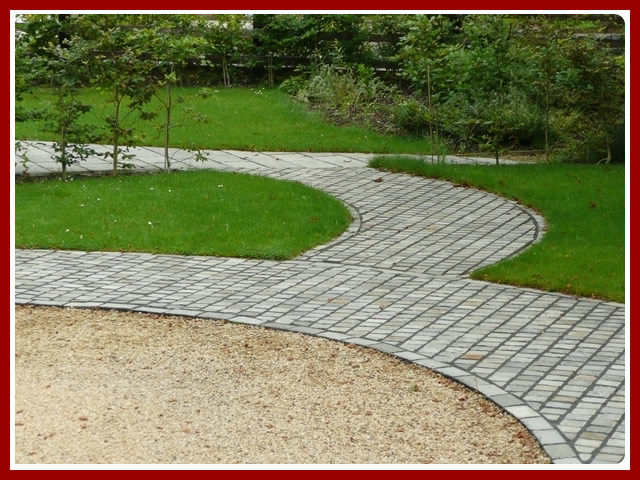 Cobble stone circles - killiney dun laoghaire
Area broken up by soft circle lines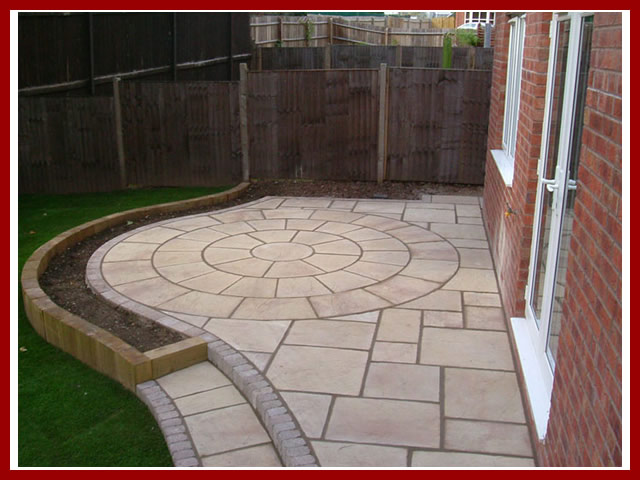 Patio cirlce with herb bed at edge. Dublin Dun Laoghaire
Circle set - block edge steps - herb / flower bed on outer edge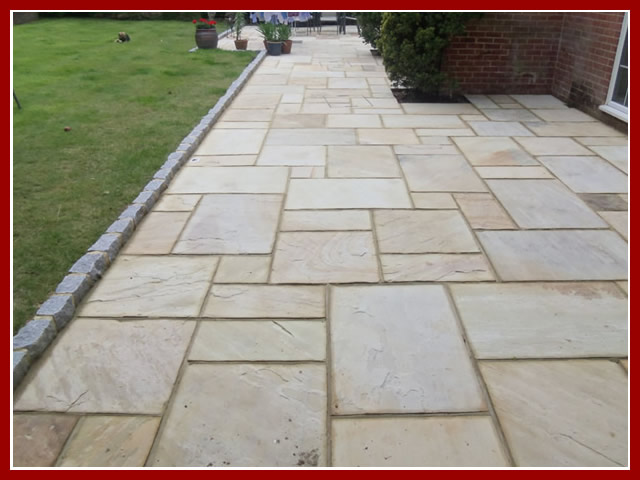 Paving runs from circle to square end point. Dublin Dun Laoghaire
Paving and Patio to back and sides of house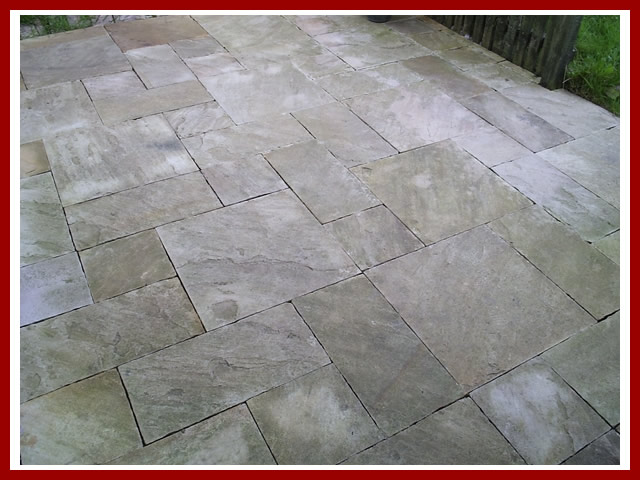 Indian Sandstone paving with very tight joint
Random staggered joints to enhance overall design
Granite: extremely durable and long lasting.
Can come in either a smooth / burnished finish (polished) or in the form of a rougher cobble.
Available is various colours, with the most common been golden / biscuit or silver / speckled white.
Retains it's colour when wet, only going marginally darker.
Safe non slip surface that provides excellent grip underneath you foot.
Sandstone: Like all the stone mentioned here, they can be broken down into two categories, Imported or Native. The imported stones have many advantages (ironically cost been one of them). Often, the sandstones originate from Indian while the granites come from China.
Then you have 'Native' stone. Ranging from the smooth sandstones of Mayo (Lacken Stone produce some lovely types of sandstone quarried from this area), to the fantastic Liscannor and Doolin, or Kilkenny and Carlow limestone's.
Advantages;
Its local, so has a lot less 'air miles'.
Doesn't suffer from the formation of algal slime which can sometimes occur on Indian sandstone etc, as its already acclimatised to the Irish environment.
Sandstones most common variations and colours. Tinted Mint / Mint - Green - Revina - Modak - Grey or Desert.
See other Landscaping and Paving projects here.
Manufactured paving: There are also many manufactured paving slabs and bricks available. These are every bit as good as natural stone paving, but have the added benefit of coming in many more sizes and colours.
Examples include Roadstone's
'

Thomond Block Paving

' (a common one you find on the grounds of apartment buildings and driveways).
'

Verona Flag Paving

', one which mimics the look and feel of granite in both appearance and texture.
And not to forget the humble 'concrete' paving slab, which can come in a host of colours and finished textures also, and is often offered as a cheaper but equally as durable or long lasting alternative to others.