Stonemason Dublin |

Stone masonry | Restoration work |
Garden walls

|

Outdoor fireplace

As you can see from the backgrounds of our team members, we have considerable experience in all aspects of stone masonry and restoration work. From stone cladding on new build homes to limestone boundary walls. You can view the full gallery on our sister website below.


Gallery features:
Granite entrance walls

Stone piers / pillars

Tiered planting beds built in stone

Internal and external sandstone and limestone fireplaces

Stone steps connecting split levels of garden.
Masonry structures can add so much to your garden. Depending on the type of stone picked and the style in which it's finished, stone can bring a host of colour and texture to your garden and outdoor space. From the warm browns of 'speckled Wicklow granite', or the fawn and tans of sandstone, to the mixed grey colours of the various limestone's available in Ireland.
Stone is also an excellent way of 'tying' the landscape together. It is especially good in creating a 'unity' between the patio or paved area. Well done masonry and paving can be very complementary to each other, as stone can be picked which either contrasts, or complements the landscaping, adding depth to your garden.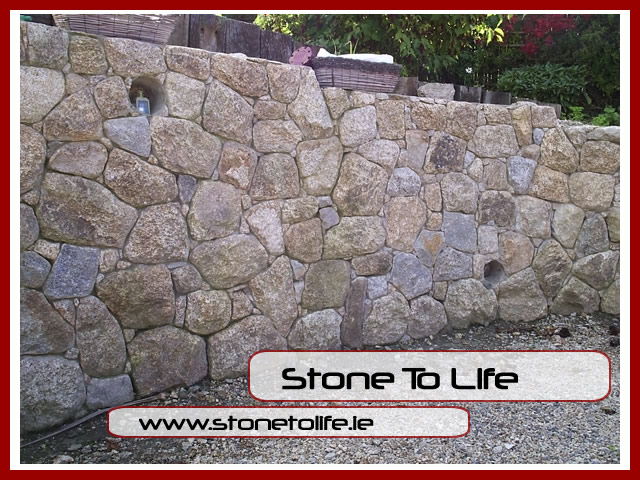 Depending on what you want to achieve in relation to the overall 'feel' for your area, stone can be done in such a way which enhances a sleek and modern design, or, augments a rustic and traditional composition.
Within gardening, you will predominantly see it used in the constructions of raised planting beds, ponds or water features, and either tall or short boundary walls. Shorter double sided stone walls, can also be an excellent way of defining areas within your space by adding a very definite 'starting and stopping' point.
If the land surrounding your house is severely sloped, tiered stone walls can be a very practical and an aesthetically pleasing application, serving the dual purpose of both retaining wall, and bedding area.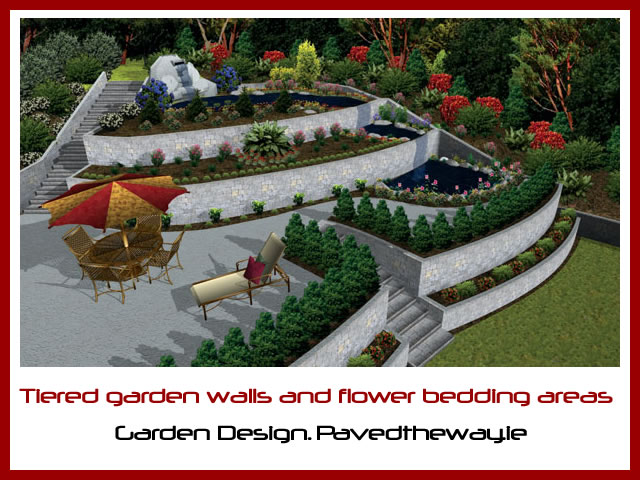 Outdoor fireplace or stoves: Stone can also be used to construct beautiful outdoor fireplaces or cooking areas (think of a barbeque encased in a stone surround). And what can work really well, is a stone built cooking area, constructed just outside of a gazebo. This combination has that perfect balance practicality and aesthetics, and really does open up the outdoors to you all year round.